Add-on - Custom H1 header PRO
Adds possibility to manage H1 header without name changing for such entities: product categories, products, brands, pages, blog posts. It is needed for cases with SEO tuning.
The addon is included in the SEO package for CS-Cart (it is free for owners of the package).
What is the main problem that add-on solves?
The H1 page title is the text that is between the <h1> and </h1> tags in the source code of the page. Usually this kind of header is used once per page. It is believed that the contents of this heading should contain the main keyword on which the corresponding page is being promoted. The importance of correctly filling this page attribute is maximum.
What is the H1 header and where is it displayed on the page?
Typically, the name of the entity is used to display the title on the page: the name of the category, product, brand, blog post or information page. For example, for a product, the H1 header is displayed in this way: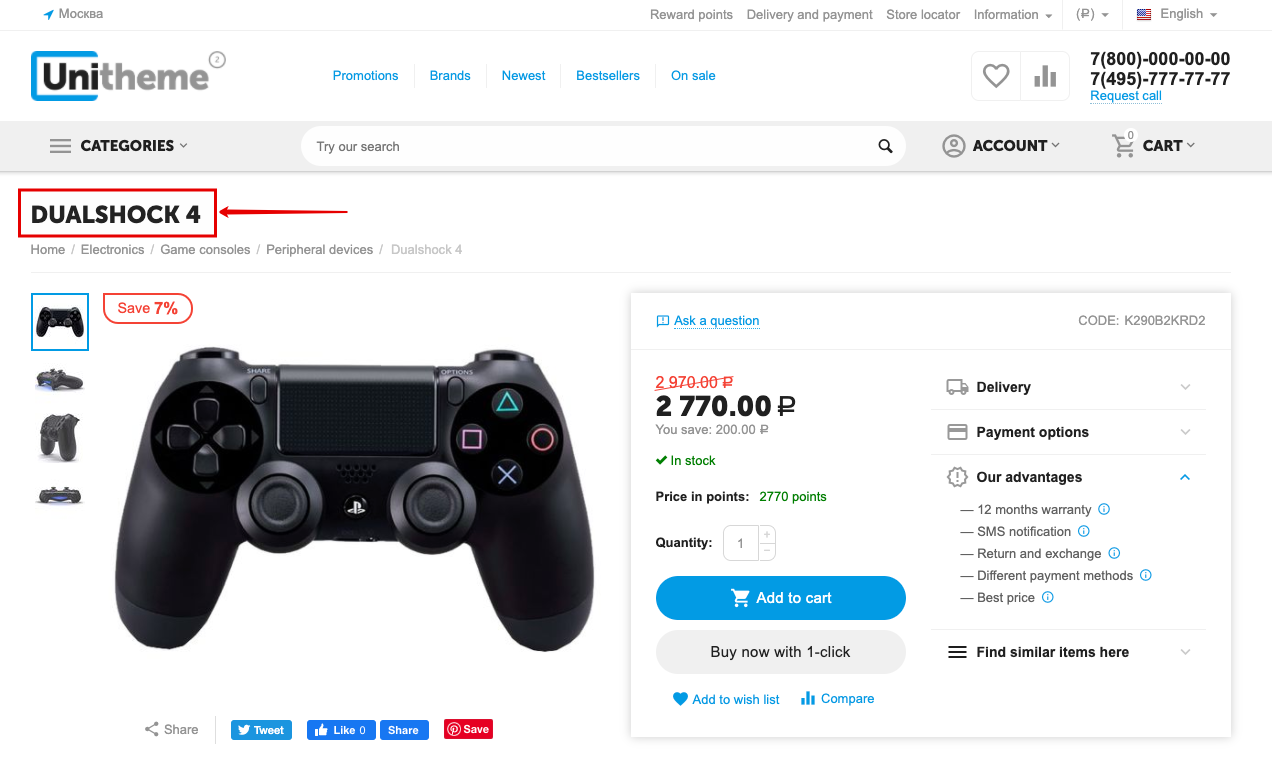 Very often, while SEO promoting an online store, the admin needs to change the H1 header of any page of the online store without changing the name of the entity for which this page is created.
For what purposes it may be necessary:
increase the relevance of the page to the search query;
decrease in the density of the main keyword on the list page when it is included in the list item H1;
the ability to promote pages for keywords that are not contained in the names of entities.

What solution does the H1 PRO Custom Header add-on for CS-Cart offer?
The add-on allows you to manage the H1 header for pages of such CS-Cart entities: category, product, brand, blog post or information page without the need to rename the entity. Also, to manage the custom H1 header of the product (the most commonly used entities), the Export - Import H1 header field is provided.
More info find in documentation.

CS-Cart type:
CS-Cart Ultimate (or CS-Cart)

CS-Cart Multivendor
СS-Cart version compatibility:
4.7.1

4.7.2

4.7.3

4.7.4

4.8.1

4.8.2

4.9.1

4.9.2

4.9.3

4.10.1

4.10.2

4.10.3

4.10.4

4.11.1

4.11.2

4.11.3

4.11.4

4.11.5
Enabled update period:
6 months (a paid renewal is available upon expiration)
AB dev team guarantees limited technical support to customers through its own technical support system. In order to use the technical support, authorize on the site and click the "Support" button.
Support includes:
Author's answers to the technical questions of the work of the solution
Help in solving bugs and problems
Release of versions, that support new versions of CS-Cart as well as fixing bugs and issues
Support does not include:
Customization services
Installation services
Adaptation services for working with third-party solutions and modules
Update services
Support
A complete list of technical support conditions look here