Add-on - SEO for tags pages and auto-assignment by rules
Addon adds all needed seo attributes for pages, created by tags, and seo names (good links for Search Engines), that will love this pages, and tag auto-assignment to products by rules.
This add-on is included in the largest SEO add-on package for CS-Cart and Multi-Vendor (by purchasing the package, you get the add-on for free).
The add-on extends the basic functionality of CS-Cart and Multi-Vendor product tags, adding opportunities for full SEO promotion of such pages, their content, improving behavioral factors and the overall return on their use in an online store or marketplace.
What the add-on for search engine promotion of product tag pages allows to achieve:
CS-Cart type:
CS-Cart Ultimate (or CS-Cart)

CS-Cart Multivendor
СS-Cart version compatibility:
4.3.4

4.3.5

4.3.6

4.3.7

4.3.8

4.3.9

4.3.10

4.4.1

4.4.2

4.4.3

4.5.1

4.5.2

4.6.1

4.6.2

4.6.3

4.7.1

4.7.2

4.7.3

4.7.4

4.8.1

4.8.2

4.9.1

4.9.2

4.9.3

4.10.1

4.10.2

4.10.3

4.10.4

4.11.1

4.11.2

4.11.3

4.11.4

4.11.5

4.12.1

4.12.2
Enabled update period:
6 months (a paid renewal is available upon expiration)
AB dev team guarantees limited technical support to customers through its own technical support system. In order to use the technical support, authorize on the site and click the "Support" button.
Support includes:
Author's answers to the technical questions of the work of the solution
Help in solving bugs and problems
Release of versions, that support new versions of CS-Cart as well as fixing bugs and issues
Support does not include:
Customization services
Installation services
Adaptation services for working with third-party solutions and modules
Update services
Support
A complete list of technical support conditions look here
Release #16
v2.2.0 from 01-Mar-2021
Release video: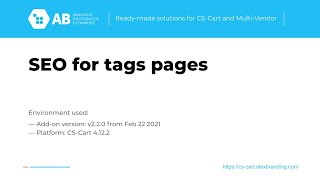 New features and improvements:
[+] Added link to view related products on the page of editing tag data.
[+] Added mechanism of generating links with products for tag, by rules set.
[+] Add-on "AB: Extended meta tags and placeholders". Added patterns management of placeholders substitution on the tag pages (located "AB: Extended meta tags and placeholders -> Patterns management -> "Tags" tab").
Bug fixes:
[!] In the administration panel on the tags list page, links "AB: Edit tag SEO data" were not displayed after changing pagination page. Fixed.
Release #15
v2.1.0 from 18-Dec-2020
New features and improvements:
[+] Added compatibility with CS-Cart 4.12.1.
[+] Added description hiding on pagination pages of the tag (SEO requirement that excludes duplication of the content).
Release #14
v2.0.1 from 06-May-2020
New features and improvements:
[+] Added Ukrainian language support.

Bug fixes:
[!] Not all tags were displayed on the tags list page. Fixed.
[!] On the tags list page tags with the first capital letter and first lower case letter were splitted into different columns. Fixed.
[!] Add-on "AB: Advanced sitemap": Link to the tags list page was not added to the xml-sitemap. Fixed.
Release #13
v2.0.0 from 25-Mar-2020
New functionality:
[+] Added product filters on the tags page.
[+] Added page of the tags list.
[+] Added "SEO name" field to the import/export of the tags.
[+] Added new layouts pages "AB: Tags list" and "AB: Tag" that are created after installation (if they were not existed earlier).
[+] Added the page for Layouts recovery.
[+] Added hook Smarty `ab__seo_for_tags:detailed_content` in the page template of the editing tag SEO data.
[+] Added hook PHP `ab__sft_get_tags_for_sitemap` to the function of tag selection for sitemap to add new additional search conditions.

Functionality changes:
[*] Removed the description from menu item "AB: SEO for tags pages".
[*] Refreshed the users' privileges.

Bug fixes:
[!] On the tags pages without products noindex was displayed when the setting "Noindex tag pages without products" was disabled. Fixed.
[!] During the tags export all tags were added into the export file regardless of the chosen storefront. Fixed.
[!] On the page of editing tag SEO data Preview link was formed regardless of the active language. Fixed.
Release #12
v1.11.1 from 25-Jun-2019
Bug fixes:
[!] Fixed bug when updating or saving tags;
[!] Language variables are corrected;
Release #11
v1.11.0 from 06-Jun-2019
Feature additions:
[+] Added UpgradeCenter/Connector for the next updates;
[+] Added compatibility with CS-Cart 4.10.*;

Bug fixes:
[!] Language variables are corrected;
Release #10
v1.10 from 28-Jan-2019
https://cs-cart.alexbranding.com/en/ab__seo_for_tags.doc
Release #9
v1.9 from 14-May-2018
https://cs-cart.alexbranding.com/en/ab__seo_for_tags.doc
Release #8
v1.8 from 23-Apr-2018
https://cs-cart.alexbranding.com/en/ab__seo_for_tags.doc
Release #7
v1.7 from 27-Sep-2017
v1.7 September 27, 2017
------------------------------------------------------------------------
+ added users permissions;


v1.6 August 14, 2017
------------------------------------------------------------------------
+ added multi-store support;


v1.5 June 2, 2017
------------------------------------------------------------------------
~ fixed bug in styles of tag description;


v1.4 May 22, 2017
------------------------------------------------------------------------
~ fixed bug in formatting tag description;


v1.3 October 18, 2016
------------------------------------------------------------------------
+ added integration with "AB: Advanced sitemap";


v1.2 August 29, 2016
------------------------------------------------------------------------
+ added help;
+ added changelog;


v1.1 August 29, 2016
------------------------------------------------------------------------
+ added "Preview" button at editing seo-data page
~ replace placeholder in tag's description;
~ special chars filter in tag page url creating;
Release #6
v1.6 from 14-Aug-2017
v1.6 August 14, 2017
------------------------------------------------------------------------
+ added multi-store support;


v1.5 June 2, 2017
------------------------------------------------------------------------
~ fixed bug in styles of tag description;


v1.4 May 22, 2017
------------------------------------------------------------------------
~ fixed bug in formatting tag description;


v1.3 October 18, 2016
------------------------------------------------------------------------
+ added integration with "AB: Advanced sitemap";


v1.2 August 29, 2016
------------------------------------------------------------------------
+ added help;
+ added changelog;


v1.1 August 29, 2016
------------------------------------------------------------------------
+ added "Preview" button at editing seo-data page
~ replace placeholder in tag's description;
~ special chars filter in tag page url creating;v1.6 August 14, 2017
------------------------------------------------------------------------
+ added multi-store support;


v1.5 June 2, 2017
------------------------------------------------------------------------
~ fixed bug in styles of tag description;


v1.4 May 22, 2017
------------------------------------------------------------------------
~ fixed bug in formatting tag description;


v1.3 October 18, 2016
------------------------------------------------------------------------
+ added integration with "AB: Advanced sitemap";


v1.2 August 29, 2016
------------------------------------------------------------------------
+ added help;
+ added changelog;


v1.1 August 29, 2016
------------------------------------------------------------------------
+ added "Preview" button at editing seo-data page
~ replace placeholder in tag's description;
~ special chars filter in tag page url creating;
Release #5
v1.5 from 06-Jun-2017
v1.5 June 2, 2017
------------------------------------------------------------------------
~ fixed bug in styles of tag description;


v1.4 May 22, 2017
------------------------------------------------------------------------
~ fixed bug in formatting tag description;


v1.3 October 18, 2016
------------------------------------------------------------------------
+ added integration with "AB: Advanced sitemap";


v1.2 August 29, 2016
------------------------------------------------------------------------
+ added help;
+ added changelog;


v1.1 August 29, 2016
------------------------------------------------------------------------
+ added "Preview" button at editing seo-data page
~ replace placeholder in tag's description;
~ special chars filter in tag page url creating;
Release #4
v1.4 from 22-May-2017
v1.4 May 22, 2017
------------------------------------------------------------------------
~ fixed bug in formatting tag description;


v1.3 October 18, 2016
------------------------------------------------------------------------
+ added integration with "AB: Advanced sitemap";


v1.2 August 29, 2016
------------------------------------------------------------------------
+ added help;
+ added changelog;


v1.1 August 29, 2016
------------------------------------------------------------------------
+ added "Preview" button at editing seo-data page
~ replace placeholder in tag's description;
~ special chars filter in tag page url creating;
Release #3
v1.3 from 19-Oct-2016
v1.3 October 18, 2016
------------------------------------------------------------------------
+ added integration with "AB: Advanced sitemap";


v1.2 August 29, 2016
------------------------------------------------------------------------
+ added help;
+ added changelog;


v1.1 August 29, 2016
------------------------------------------------------------------------
+ added "Preview" button at editing seo-data page
~ replace placeholder in tag's description;
~ special chars filter in tag page url creating;
Release #2
v1.2 from 06-Oct-2016
v1.2 August 29, 2016
------------------------------------------------------------------------
+ added help
+ added changelog


v1.1 August 29, 2016
------------------------------------------------------------------------
+ added "Preview" button at editing seo-data page
~ replace placeholder in tag's description;
~ special chars filter in tag page url creating;
Release #1
v1.1 from 29-Aug-2016