The add-on is included in the Cross-up - sell add-ons package for CS-Cart (supplied free for package owners)
Briefly about the functionality of the add-on:
The add-on automates the routine of creating standard product combinations for the Buy together cheaper add-on. The generator mechanics allows you to specify the Main product (or several products) and Additional products, on the basis of which combinations of products with specified discount conditions will be created;
Adds new user interface for product combinations that sells more;
The module also adds a separate page for managing such combinations with a convenient search by combinations;
The add-on supports Multi-Vendor editions of the CS-Cart platform.
Look video with extended buy together in work
Work with base functions:
Integration with "Intellectual selection of products" add-on
Why should you use add-on?
As you can see, this is not just a module for generating typical combinations, it is a whole combine that can:
increase sales in your store or marketplace;
will allow you to covertly dump, that is, to reduce the price offer for a combination of products, which is allowed by suppliers)
reduce the time spent on creating combinations, maintaining their relevance;
offer the user the most optimal combination selection interface from the point of view of usability (and, therefore, the highest conversion);
create truly meaningful product combinations and automatically based on rules. All products in a combination can be selected taking into account the fact that they are most suitable for each other and the buyer is organically interested in buying them together).
Full list of features:
CS-Cart type:
CS-Cart

CS-Cart Ultimate (or CS-Cart)

CS-Cart Multivendor

CS-Cart Multi-Vendor Plus

CS-Cart Multi-Vendor Ultimate
СS-Cart version compatibility:
4.13.2

4.13.3

4.14.1

4.14.2

4.14.3

4.15.1

4.15.2

4.16.1

4.16.2

4.17.1
Enabled update period:
6 months (a paid renewal is available upon expiration)
AB dev team guarantees limited technical support to customers through its own technical support system. In order to use the technical support, authorize on the site and click the "Support" button.
Support includes:
Author's answers to the technical questions of the work of the solution
Help in solving bugs and problems
Release of versions, that support new versions of CS-Cart as well as fixing bugs and issues
Support does not include:
Customization services
Installation services
Adaptation services for working with third-party solutions and modules
Update services
Support
A complete list of technical support conditions look here
Release #4
v2.0.1 from 08-Sep-2021
All combinations, that were generated earlier, will be deleted during the update. After add-on update, please, generate combinations again.
New features and improvements:
[+] On the editing page of generator button for calculation of generated combinations was added.
[+] On the page of generators list view of number of generated combinations was added.
Functionality changes:
[*] Added limit that restrict number of combinations at one generating.
Release #3
v2.0.0 from 08-Sep-2021
Release video: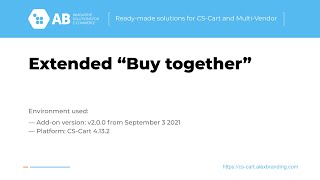 New features and improvements:
[+] Added new view of product combinations with the ability to change/ disable additional product(s).
[+] Added ability to generate combinations by Cron task.
[+] Added compatibility with "AB: Intellectual selection of products in block (analogues, accessories) by features" add-on.
Functionality changes:
[*] Add-on was renamed from "AB: Generator of product combinations" to "AB: Extended "Buy together".
[*] Placeholder %product% has been changed to [product].
Release #2
v1.1.0 from 13-Jul-2021
New features and improvements:
[+] Language selector was added on the management page of product combinations.
[+] Added the ability to create descriptions and names in different languages when generating combinations.

Bug fixes:
[!] Product picker didn't pull up products that were shared from other storefronts. Fixed.
[!] Search form of products was not cleared in combination list. Fixed.
Release #1
v1.0.0 from 05-Oct-2020
"Buy together" add-on. Functionality that extend CS-Cart add-on "Buy together" was relocated from the themes AB: UniTheme2 and AB: YoupiTheme into separate add-on.

New features and improvements:
[+] Multi-Vendor. Added ability for vendors' administrators to use combination generator of products.

Functionality changes:
[*] Multi-Vendor. For administrator of the marketplace added mandatory field for generation: "Vendor".