Addon - Hide a part of product description to needed height
FREE add-on hides a part of full description (if it is more, then size in settings) and adds link "More", by click on it full description will be shown in all size.
This free addon will improve the situation for stores that have large (too long) product descriptions, which do not give the user on the product page to get information of other proposals related goods, analogues, shares this product. To do this, you need to scroll down the page. Not all users will do this.
How to resolve the problem? We can visually limit the size of content for the detailed description field with the minimum size (place in it most important information) and provide a link where you can unleash the full text of the description. Due to this products accessories, analogues or shares will be more likely seen by the buyer and possibly the buyer will make a purchase not one but several goods!
Our addon will give you this opportunity absolutely free! Detailed description will be visually limited, while in the source code of the page the entire content of the field will be available.
+ Bonus !!! Specify in addon settings needed size of content for putting "More" link.
How it works on product page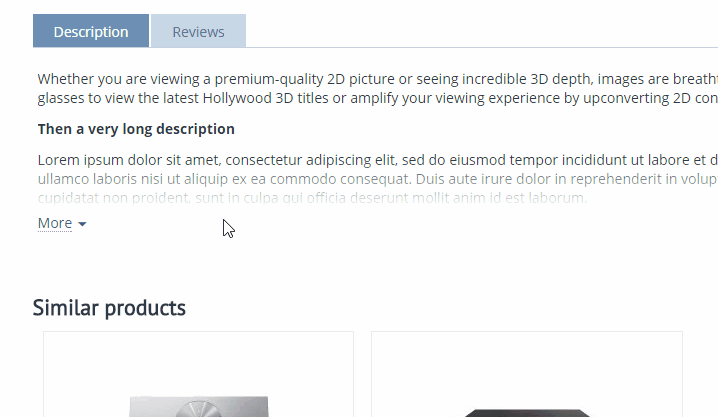 CS-Cart type:
CS-Cart Ultimate

CS-Cart Multivendor
СS-Cart version compatibility:
4.3.0

4.3.1

4.3.2

4.3.3

4.3.4

4.3.5

4.3.6

4.3.7

4.3.8

4.3.9

4.3.10

4.4.1

4.4.2

4.4.3

4.5.1

4.5.2

4.6.1

4.6.2

4.6.3

4.7.1