!!! Addon will not be compatible with CS-Cart 4.10+ as this functionality was added in CS-Cart core !!!

Checkout without email in CS-Cart shop - already a reality
Get maximum online store conversions - do not lose orders from users, who do not have e-mail (among active customers about 10% of users do not have e-mail or do not want to open it, as stores in the future begin to send spam on the box) .
Our addon allows the buyer to make a choice - to enter or not to enter a required field e-mail. It is enough to make an active check "I do not have e-mail," and our addon will hide the e-mail field and allow to complete the order without inputing of e-mail.
For authorized users (which are already already have e-mail), we will not use this option at all, addon applies only to anonymous.
Orders without email will be subject to a full procedure as, if the user entered an email address (for all steps of checkout).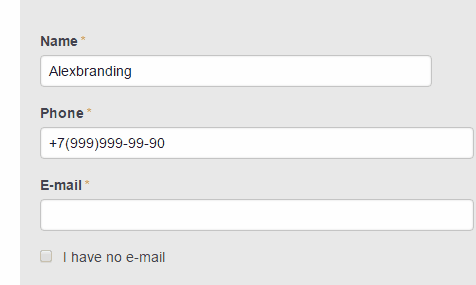 CS-Cart type:
CS-Cart Ultimate (or CS-Cart)
СS-Cart version compatibility:
4.3.0

4.3.1

4.3.2

4.3.3

4.3.4

4.3.5

4.3.6

4.3.7

4.3.8

4.3.9

4.3.10

4.4.1

4.4.2

4.4.3

4.5.1

4.5.2

4.6.1

4.6.2

4.6.3

4.7.1

4.7.2

4.7.3

4.7.4

4.8.1

4.8.2

4.9.1

4.9.2

4.9.3
Enabled update period:
6 months (a paid renewal is available upon expiration)
AB dev team guarantees limited technical support to customers through its own technical support system. In order to use the technical support, authorize on the site and click the "Support" button.
Support includes:
Author's answers to the technical questions of the work of the solution
Help in solving bugs and problems
Release of versions, that support new versions of CS-Cart as well as fixing bugs and issues
Support does not include:
Customization services
Installation services
Adaptation services for working with third-party solutions and modules
Update services
Support
A complete list of technical support conditions look here
Release #6
v2.3 from 06-Nov-2018
https://cs-cart.alexbranding.com/en/ab__checkout_without_email.doc
Release #5
v2.2 from 18-Jun-2018
https://cs-cart.alexbranding.com/en/ab__checkout_without_email.doc
Release #4
v2.1 from 21-Mar-2018
https://cs-cart.alexbranding.com/en/ab__checkout_without_email.doc
Release #3
v2.0 from 12-Mar-2018
https://cs-cart.alexbranding.com/en/ab__checkout_without_email.doc
Release #2
v1.1 from 31-May-2016
Добавлена совместимость с 4.3.7
Release #1
v1.0 from 23-Apr-2016