Addon - Jquery mask input for a "Phone" field in order and user profile (actual for CS-Cart before 4.9.3)
This addon adds format input mask phone number (set in module settings format) on all fields with type "phone". Now your customers will indicate the telephone number is strictly for the specified format and no extra characters (especially important when the store is sending sms).
!!! Addon will not be compatible with CS-Cart 4.10+ as this functionality was added in CS-Cart core !!!
Addon processes all system fields with type "Phone", by connecting checking for the correctness of the input with desired format (format can be changed individually in settings). This addon also allows you to remove large amount of unnecessary scripts and code on your pages for the best performance and SEO.
Benefits of using:
no extra or missing characters in the phone number
your checkout interface gives the user a clear understanding of acceptable actions,
all users phones numbers are stored in a common format (very convenient and seamlessly use them in the future, for example, send sms)
addon add phone format to all fields with type "Phone"(optional in admin panel also)
settings of addon gives full flexibility - set phone format by yourself for any country!
Addon in work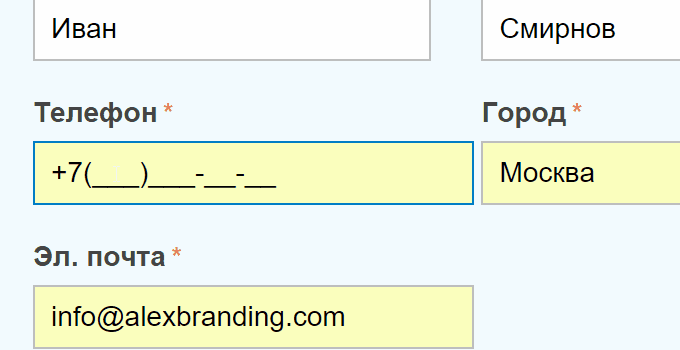 CS-Cart type:
CS-Cart Ultimate (or CS-Cart)
СS-Cart version compatibility:
4.3.0

4.3.1

4.3.2

4.3.3

4.3.4

4.3.5

4.3.6

4.3.7

4.3.8

4.3.9

4.3.10

4.4.1

4.4.2

4.4.3

4.5.1

4.5.2

4.6.1

4.6.2

4.6.3

4.7.1

4.7.2

4.7.3

4.7.4

4.8.1

4.8.2

4.9.1

4.9.2

4.9.3
Enabled update period:
6 months (a paid renewal is available upon expiration)
AB dev team guarantees limited technical support to customers through its own technical support system. In order to use the technical support, authorize on the site and click the "Support" button.
Support includes:
Author's answers to the technical questions of the work of the solution
Help in solving bugs and problems
Release of versions, that support new versions of CS-Cart as well as fixing bugs and issues
Support does not include:
Customization services
Installation services
Adaptation services for working with third-party solutions and modules
Update services
Support
A complete list of technical support conditions look here