Addon - Load more products - ajax lazy load pagination for categories page (actual for CS-Cart before 4.9.3)
This addon allows you to use the automatic uploading for next portion of poroducts on the store category page. Optionally you can upload the following items by clicking on the "Show more items N", where N - number of products per page of settings CS-Cart.
!!! Addon will not be compatible with CS-Cart 4.10+ !!!
Addons features:
load the additional next portion of products by clicking on the button "Load more";
will automatically load the additional portion of the goods at the event by the user to achieve a certain position of the screen at the end of the current product list (in settings you can define position in pixels for script starting loading new product portion);
demonstration of the current position of pagination (show products X of Y, where X - the number already were downloaded items in the list, Y - the total number of items in the list), this data will dinamically change according new product downloads in list.

if the list is already loaded with all products, user will receive a message, that all products already loaded
What benefits you will get with load more products button on a category page:
a longer time on the page with a minimun actions
a larger number of goods will be viewed for user session
the user will receive information about his current position (in the list) and total number of goods in list.
Addon work in 2 sec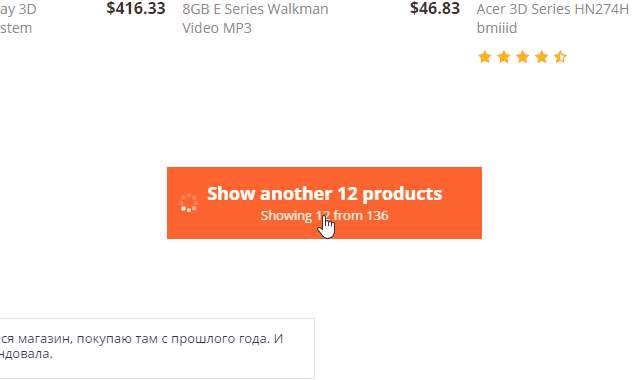 CS-Cart type:
CS-Cart Ultimate (or CS-Cart)
СS-Cart version compatibility:
4.3.0

4.3.1

4.3.2

4.3.3

4.3.4

4.3.5

4.3.6

4.3.7

4.3.8

4.3.9

4.3.10

4.4.1

4.4.2

4.4.3

4.5.1

4.5.2

4.6.1

4.6.2

4.6.3

4.7.1

4.7.2

4.7.3

4.7.4

4.8.1

4.8.2

4.9.1

4.9.2

4.9.3
Enabled update period:
6 months (a paid renewal is available upon expiration)
AB dev team guarantees limited technical support to customers through its own technical support system. In order to use the technical support, authorize on the site and click the "Support" button.
Support includes:
Author's answers to the technical questions of the work of the solution
Help in solving bugs and problems
Release of versions, that support new versions of CS-Cart as well as fixing bugs and issues
Support does not include:
Customization services
Installation services
Adaptation services for working with third-party solutions and modules
Update services
Support
A complete list of technical support conditions look here